Things to do in Bangkok
Shanti Bangkok is located right next to Tewet market, and is just a short walk from one of the main ferry points the "Tewet Express Boat Pier". This give easy access to most places in Bangkok using the ferry services and is a very cost effective way to explore the city and its highlights.
One of the places we suggest if you decide to take the ferry is Koh Kret and is a wonderful day out.
You can also visit the Temples and Grand Palace - again, easily accessible from Tewet Pier and a short ferry ride to the main stop close to the palace.
We also have many tuk-tuk's and taxis in the road where we are, so travel to other parts of the city is just as easy if you prefer not to travel by boat.
There are many places for shopping in Bangkok and if you are a shopaholic you will not be disappointed. From the Chatuchak Market with thousands of market stalls where you can literally buy everything you could every want (well almost) - household furniture, pet dogs and probably the largest collection of clothing stalls in Bangkok - to MBK one of the largest shopping malls in Bangkok full of electrical goods, more clothes, food halls, bowling and cinema. With so many places to go shopping, you will need several days to see them all.
Khoasan Road is a short walk away from Shanti Lodge and is a popular place amongst travellers and backpackers to hang out. it's worth a look and has an interesting nightlife with plenty to keep you occupied.
After a long day out you can have a relaxing massage back at Shanti Lodge, this can be booked at reception.
A point to note when travelling around Bangkok is to be aware of touts and jewellery scams.
Shopping Centres in Bangkok
Icon Siam

Bangkok's newest billion-dollar shopping centre
Icon Siam Icon Siam is Bangkok's newest lavish mall, it opened in late 2018. With its decorative features trimmed in gold, the mall looks like something pulled out of a book. Icon Siam hosts several cool features such as; water fountains, a small indoor park, and some cool interior's designed by notable interior designers. The shopping centre has a total of 5 floors and likewise to Siam Paragon, hosts many high-end luxury brands. Construction of this shopping centre cost a whopping 20 Billion Baht, yes, that's billion. Simultaneously to being stunning, it is conveniently located along the Chao Phraya river bank. It offers free boat shuttle from several (name them) piers and can also be a accessed by road as well as taking a BTS to Saphan Taksin and crossing the river by ferry. Whilst there isn't as much to do in this centre as Paragon, it does provide an awesomely breath-taking setting where you can enjoy a great sunset along the Chao Phraya. In addition to the beautiful views of the Chao Phraya River Icon Siam has many food options with a high-quality selection. There are also free to use co-working area that may delight some digital nomads. Opening Hours: 10:00am-22:00pm Nearest BTS: Saphan Taksin BTS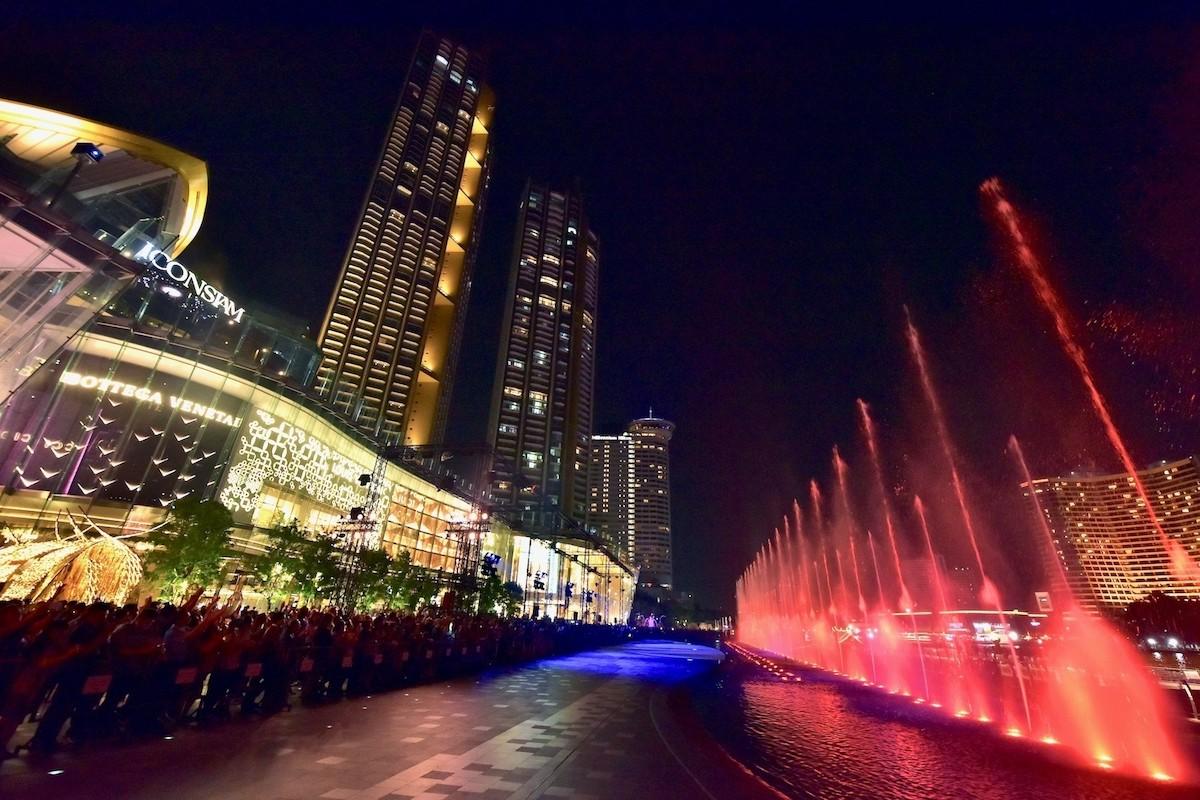 Siam Paragon


One of Asia's most lavish shopping centres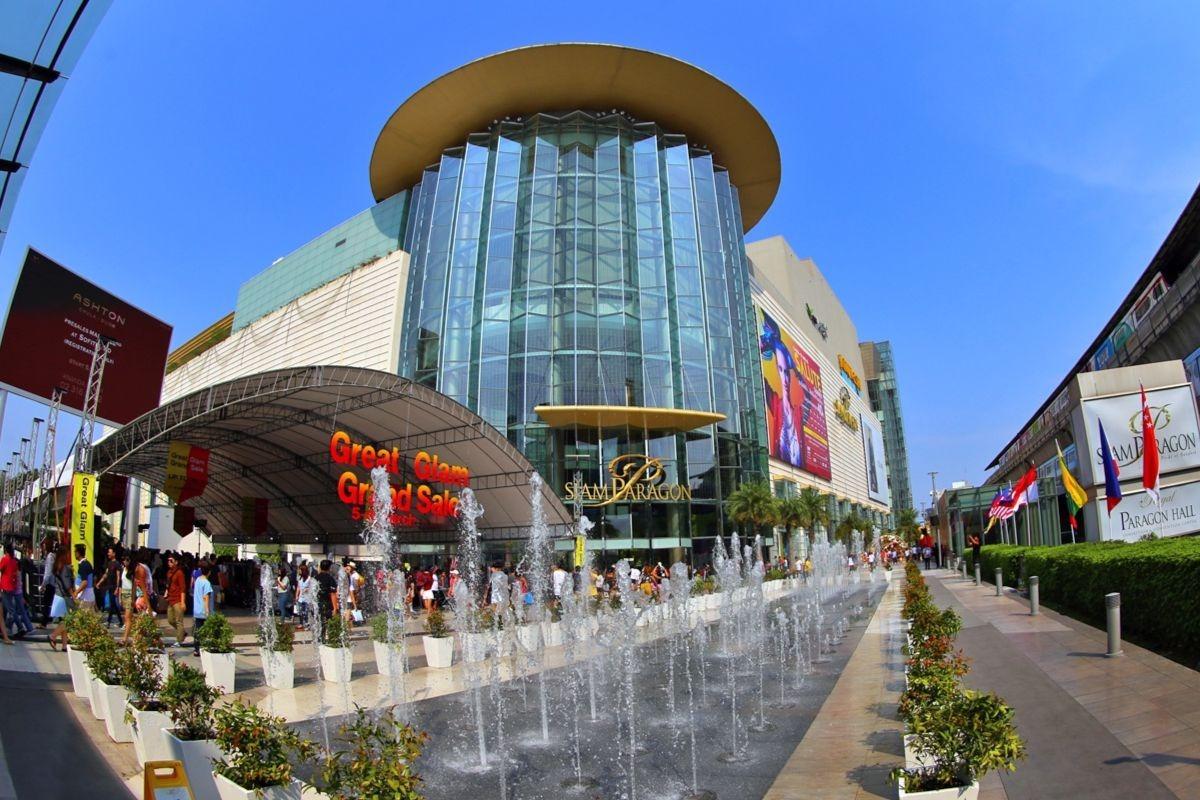 Siam Paragon Paragon is easily one of the most lavish, decked out, and extravagant shopping centres in Thailand. It was opened in 2005 and has since become recognized as one of the utmost popular shopping centres in not only Thailand but all of Asia. Paragon attracts shoppers from everywhere and offers a number of high-end brands such as; Louis Vuitton, Prada, Salvatore Ferragamo, Versace, Jimmy Choo, and many more. In addition to high-end luxury brands, Paragon also has a Car Showrooms for; Aston Martin, Lotus, Ferrari, Lamborghini, BMW, and Maserati. If you are looking to purchase high-end fashion products, this is the place to go. Paragon also has several fun activities that people can spend time doing. Firstly, this shopping centre has the largest indoor aquarium in South East Asia. Secondly, there is 15 theatre Cineplex with both 3D and 4D experiences offered. Lastly, there is also a top-notch bowling alley by the name of 'Blue-O Rhythm and Bowl' where one can spend all day bowling balls down alleys at pins at their own leisure. This shopping centre is also very easy to access and offers so many different kinds of food options. There aren't any knock-offs available here so you can put your mind at ease when making purchases. Opening Hours: 10:00am – 22:00pm Nearest BTS: Siam Interchange
Emporium & Emquartier


Phrom Phong's very own luxury shopping centre
Emporium & EmQuartier Emporium & EmQuartier are 'sister' luxury malls located in the Khlong Toei area. Emporium has been opening for just over a decade, whilst its newer counterpart EmQuartier has only been open since 2015. With the goal of making Phrom Phong into one of the biggest retail hubs in Bangkok, "The Mall Group" invested billions of Baht into both projects. EmQuartier being the newer installation is notably more impressive than Emporium and has an approximate 4,000 square metres of floor space and host over 400 different labels. Calling the design of EmQuartier impressive is an understatement. The mall itself is divided into 3 different zones which are actually separate buildings within themselves. These zones are called The Glass Quartier, The Helix Quartier, and The Waterfall Quartier. On the top floor of this complex is an atrium area where you have to walk up a spiral staircase (or take the elevator) where you will nifty waterfall installations that can help cool you down in hot Bangkok. The areas inside the complex are spacious so it doesn't ever feel too crowded and there is also an upscale food court that has several delicious food options. The Quartier's offer a good shopping experience for everyone. Shoppers can stroll around the atrium for selfies, enjoy cinematic films in fancy cinemas whilst eating truffle flavoured popcorn. To top the place off, there is an indoor botanical garden that people can freely enjoy. Opening Hours: 10:00am-22:00pm Nearest BTS: Phromphong BTS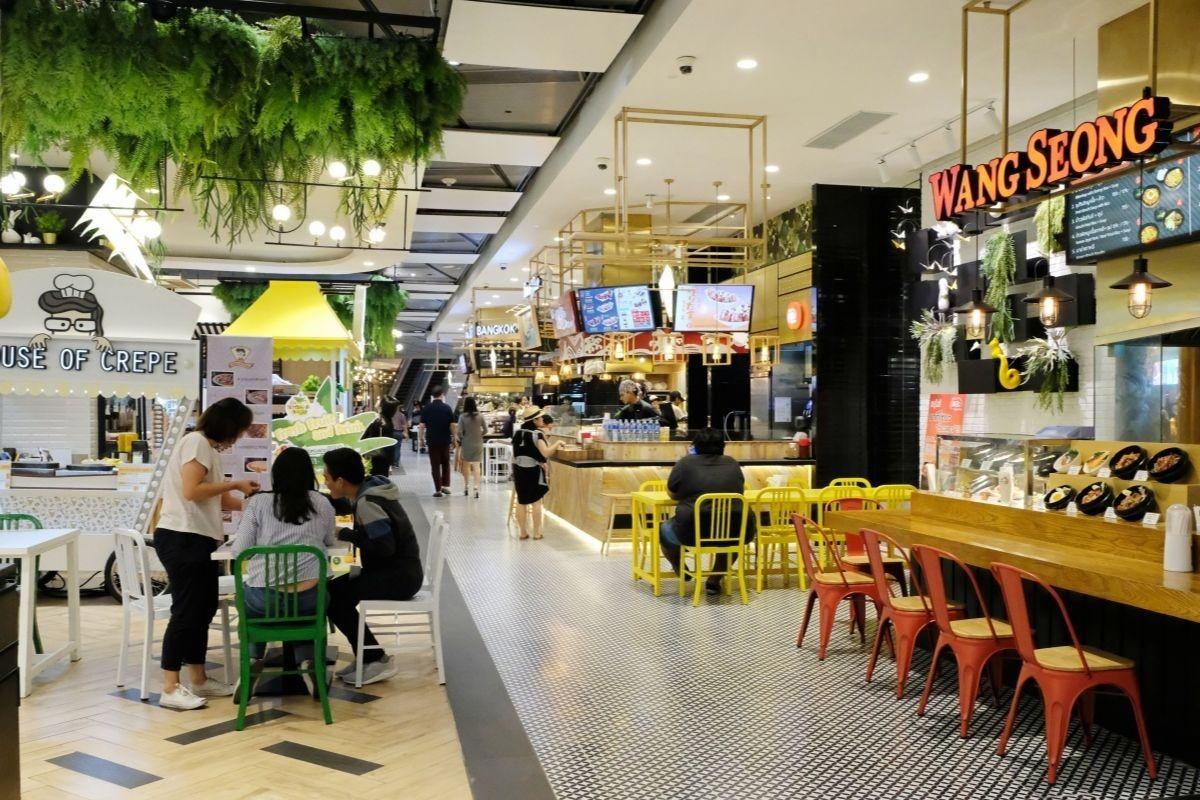 Mahboonkrong (MBK)


Thailand's oldest 1-Stop shopping destination.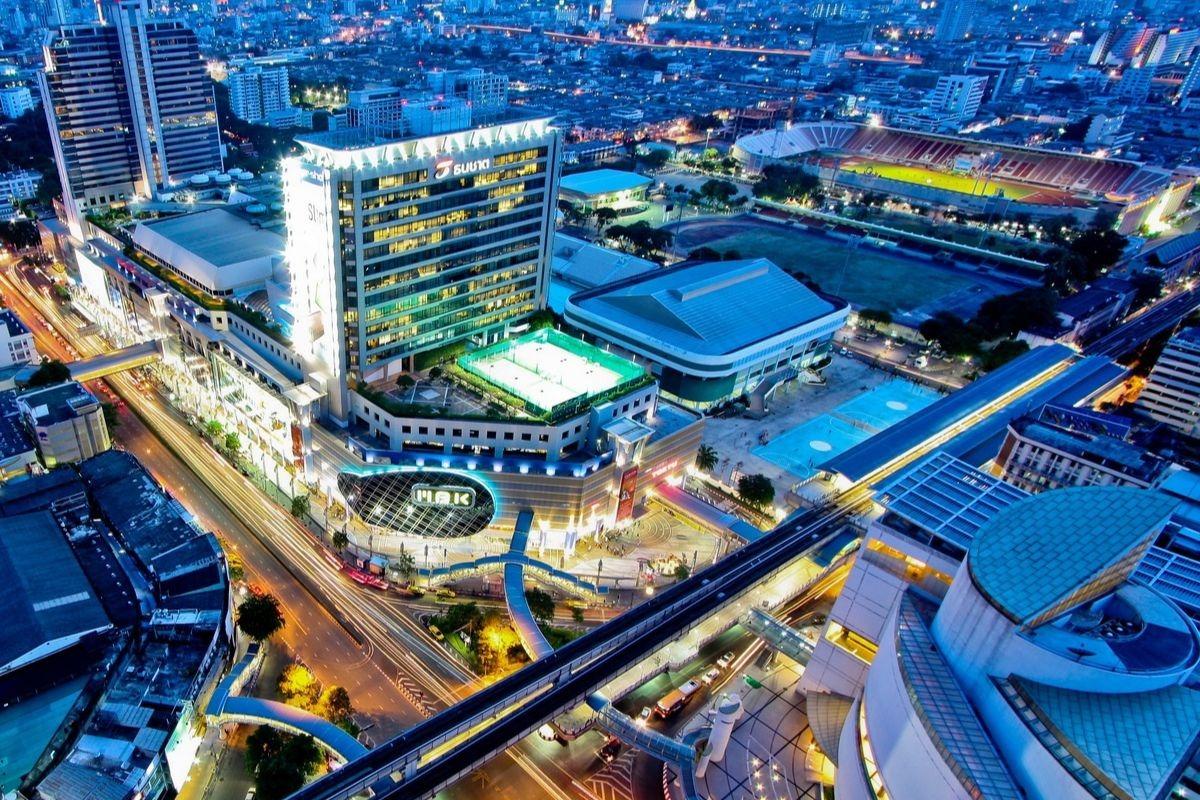 Mahboonkrong (MBK) MBK is one of Thailand's oldest shopping centres, it was opened in 1985 and is highly popular amongst both Thai's and foreigners. MBK stands 8 storeys tall and is packed with around 2,000 different shops, restaurants, and service outlets. There are a large variety of products available for people to purchase covering items such as; Clothing, Shoes, Fashion Accessories, Bags, Leather Products, Electronics and much more. MBK is not as stylish or chic as its nearby neighbours Siam Paragon & Siam Discovery and the like, but it does possess its own unique 'indoor market-like' feel. Whilst this shopping centre has almost everything you could imagine, it doesn't have many of the high-end brands as vendor's products focus on low to mid ranged quality goods. The shopping centre is practically a 1-Stop Shopping Destination that has one of the best food courts in Bangkok. It is also known to have one of largest IT section of mall available. An easy to access location with affordable shopping. Opening Hours: 10:00am – 22:00pm Nearest BTS: National Stadium
Cultural Areas in Bangkok
Bangkok Art & Culture Centre

Bangkok's Hub for Contemporary Art and Installations
BACC Bangkok Arts and Cultural Centre is an art exhibition hall built in 2009. The centre is dedicated to art and was created to provide an area for artists to exhibit their work to allow them to share the wealth of culture that Thailand has to offer. Although its primary function is to host Thai art, it also often includes the art and installations of notable artists from around the world. Bangkok Arts and Cultural Centre has 5 floors and a spiralled staircase sprawling with art pieces for anyone to view. Furthermore, it is free to enter, so there is no reason not to check it out if you have some free time. BAAC provides a very nice experience of Thailand's budding contemporary art scene. Themes, art, and installations are changed every few months so there is always new beauty to commend. Spending between a few hours is usually enough to cover everything that BAAC has to offer and because it is located smack in the middle of Bangkok's largest shopping district, it makes sense to tie up this site with a visit to MBK or a number of other shopping centres nearby. BAAC is located directly across from MBK, they share a BTS platform (National Stadium). Travelling to the exhibition hall from Shanti Lodge is best done with Taxi or Tuk-Tuk and usually costs about 80 – 120 Baht. Travellers on a budget can also take buses from 15 – 25 Baht depending on bus colour. Opening Hours 10:00-21:00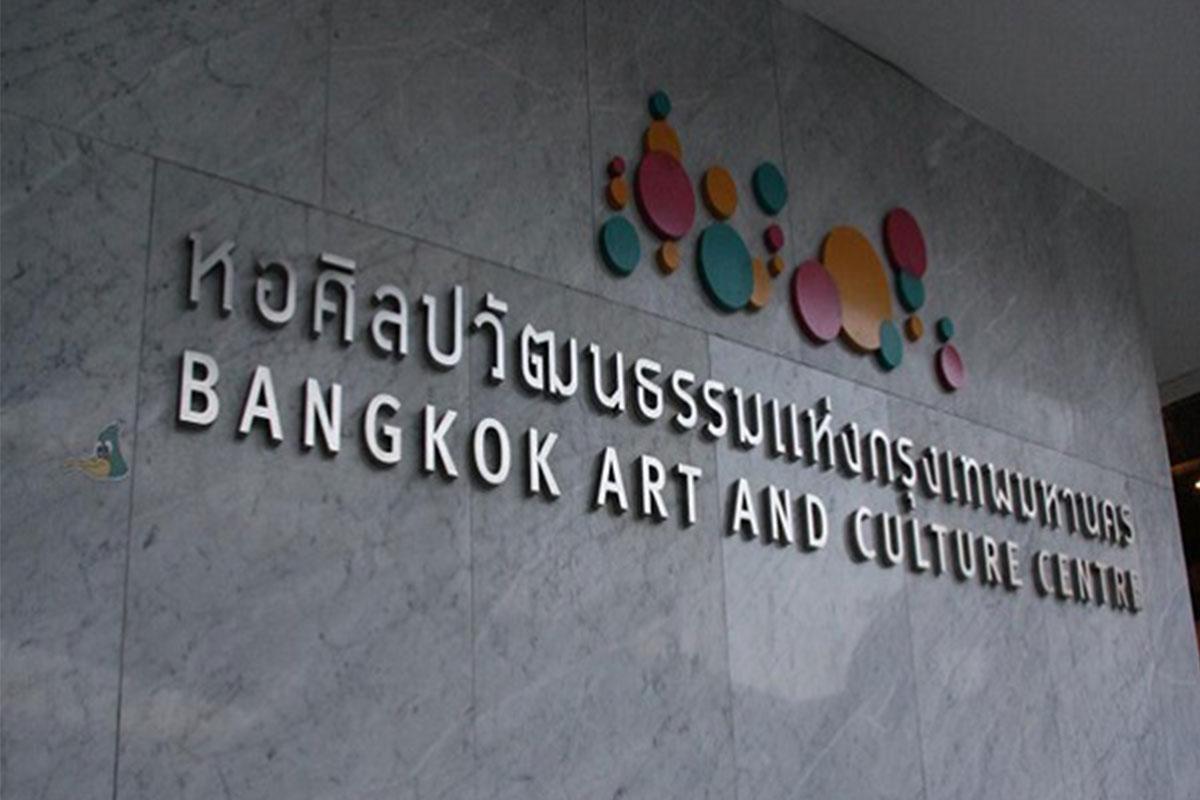 Wat Traimit (Temple of the Golden Buddha)


Thailand's renowned Golden Buddha, one of the largest of its kind>/p>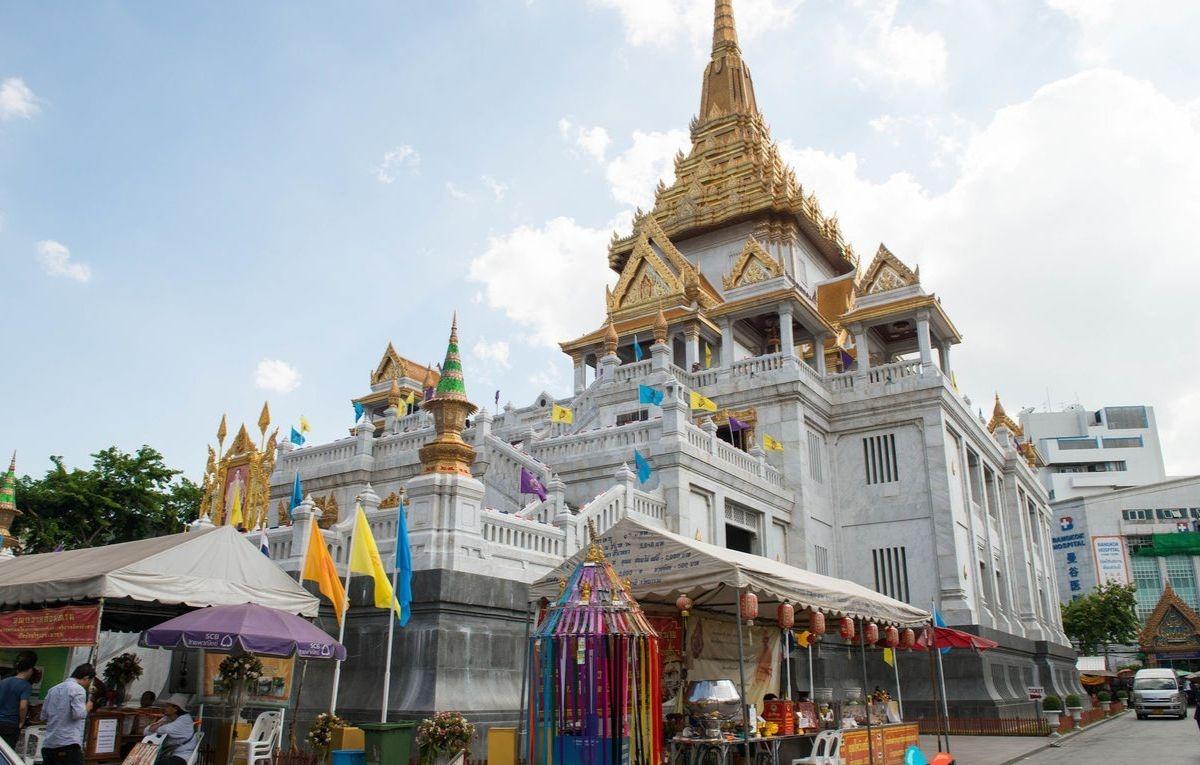 Wat Traimit (Temple of the Golden Buddha) Wat Traimit is the temple that holds the Golden Buddha Statue named Phra Phuttha Maha Suwana Patimakon. The relic is a golden Theravada Buddhist statue which stands approximately 3 metres high and weighs in at an impressive 5.5 tonnes or 5,500 kilogrammes of gold. It is made of 9 separate pieces with a single key that can dissemble them. During the Burmese invasion of Ayutthaya in 1767, the golden Buddha was coated in plaster and coloured glass to hide its significance, importance and true value. After the war, it had been forgotten about and so it remained camouflaged for an estimated 200 years. So long that it had become considered a statue of lesser importance. This was true, until one day during its relocation in 1955, the plaster and glass chipped and its golden coat was revealed. It is recorded in Thai history that this statue was once housed under a tin roof for over 20 years. However, once its prestige discovered, King Rama III ordered the temple which it is hosted at to be redeveloped into a significant holy site. According to Thai officials, the purity of the statue's pieces measured to be 99% gold. At today's current prices, the relic is valued between an astounding 200-250 million dollars. Photos of the plaster which covered the Buddha statue are on display at the temple. The golden Buddha is located in the temple Wat Traimit or better known as Golden Buddha Temple is only 4.8 kilometres from Shanti Lodge Bangkok. Expected travel time ranges between 10-15 minutes and can costs approximately 60-150 Baht depending on if you choose to take a taxi or Tuk-Tuk. If walking is how you prefer sightseeing, the journey will take an estimated 45-60. Opening Hours 9:00 - 17:00
Wat Saket (Golden Mountain Temple)


Bangkok's shimmering Golden Mountain
Wat Saket (Golden Mountain Temple) Wat Saket, also known as Phu Khao Thong (Golden Mountain Temple), is a holy site built upon a mound in downtown Bangkok. The temple dates back sometime in the Ayutthaya era between 1350 and 1787. The holy site underwent renovations ordered by King Rama I, who at the time was renovating many of Bangkok's abandoned temples. The first chedi (spire) inside this temple was constructed under King Rama I's grandson King Rama III. The original chedi collapsed due to Bangkok's soft soil and the fact that the city is sitting on a flood plain which caused the site to be abandoned for some time. The temple as it stands today was only completed by King Rama V between the years 1853-1910. Although it wasn't considered a significant site to Bangkok in the past, in recent years, Golden Mountain Temple has become a symbolic tourist attraction to the city and its tourists. Golden Mountain Temple is a man-made hill crowned with a golden coated chedi (spire). Currently, the sacred site is a well-known landmark and hosts the pilgrimage of monks during a weeklong holy period in November. During this period, the golden chedi and much of the surrounding area is draped in red cloth displaying a rare visual experience. The area surrounding the mound is relatively small but has a number of shops which visitors can go to purchase general goods and souvenirs. Golden Mountain Temple is located on Lanluang Road (Add Link) and is only a 10-minute taxi ride from Shanti Lodge Bangkok. Tuk-Tuk's are also available on Shanti's doorstep. The commute could anywhere between 60-120 Baht depending on your choice. Opening Hours 8:00 AM to 17:00 PM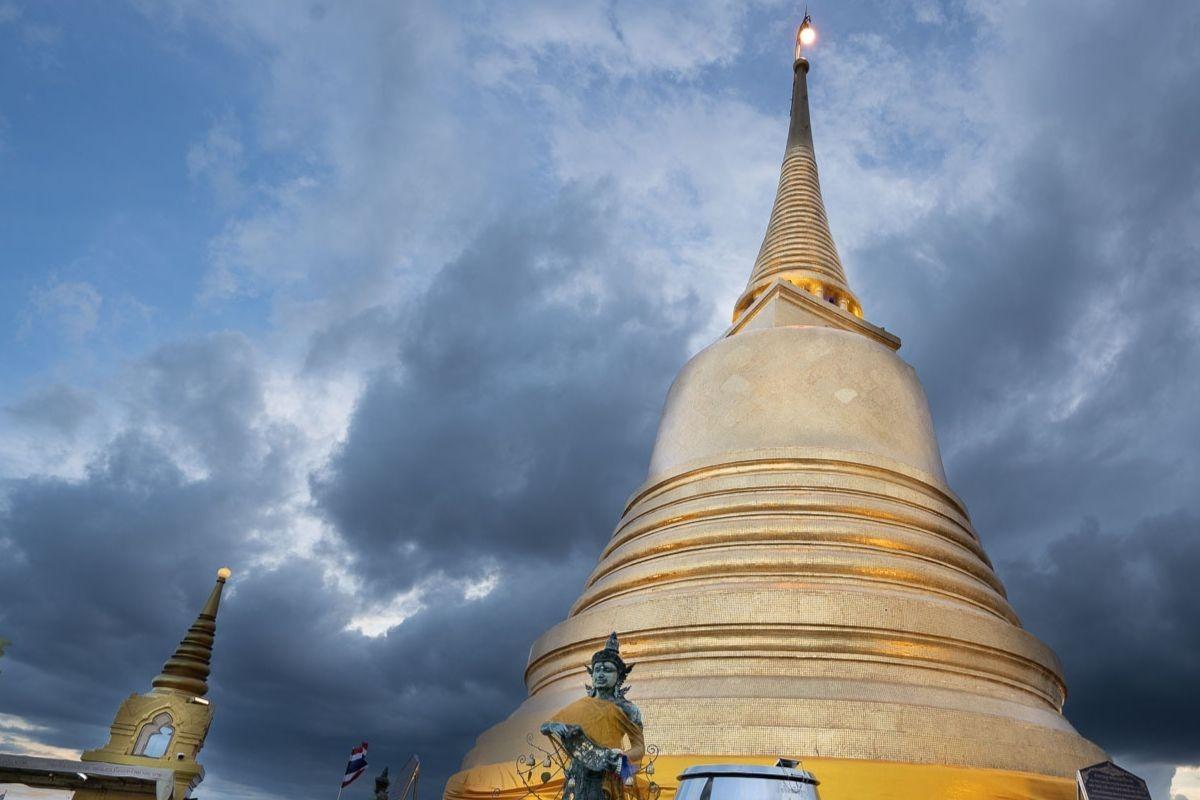 Wat Phra Kaew (Temple of the Emerald Buddha)


Bangkok's Temple of the Emerald Buddha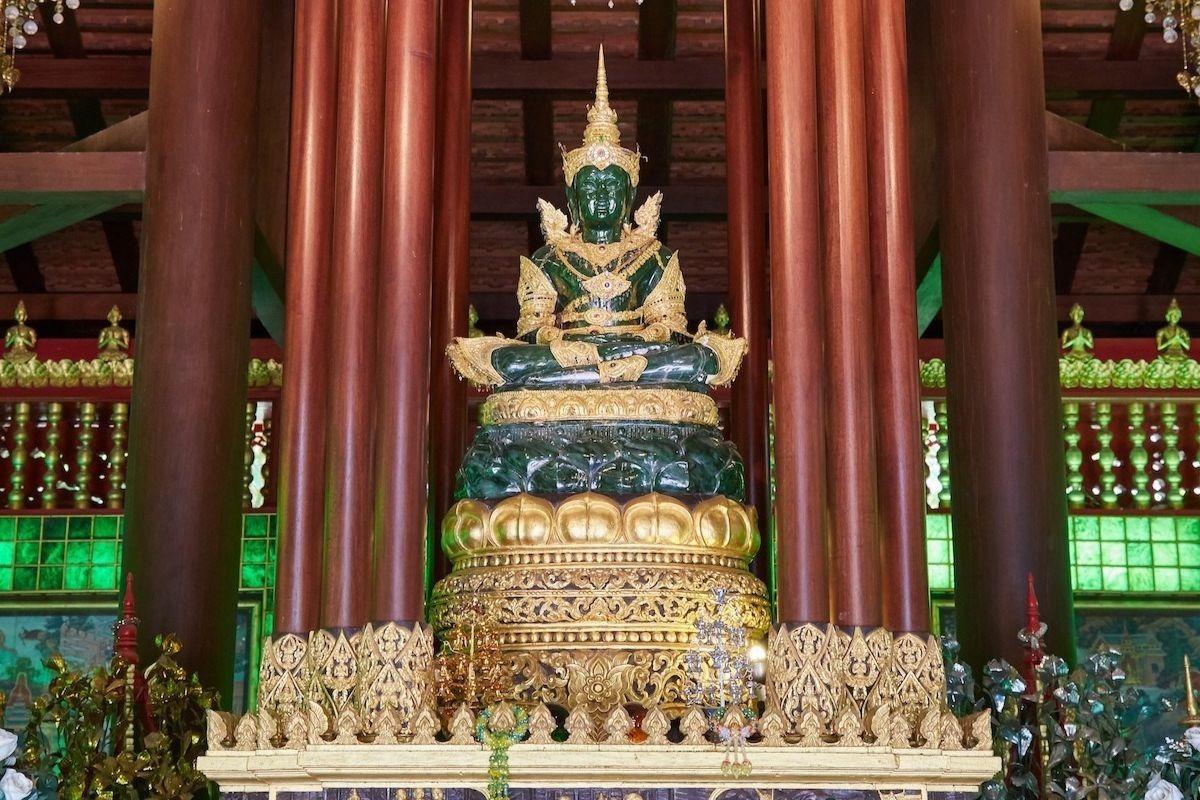 Wat Phra Kaew (Temple of the Emerald Buddha) Wat Phra Kaew is the temple that holds Phra Kaew Morakot (the Emerald Buddha). The statue once held great significance to Bangkok's safety as it was considered the city's palladium. Due to officials not allowing the statue to be tested to confirm its composition nobody can guarantee what it is made from. Rather ironically, the Emerald Buddha is thought to be made of the semi-precious stone jade and not emerald. It was discovered sometime during the 15th century in the Lanna Kingdom in the providence that is now known as Chiang Rai. The Emerald Buddha, much like the Golden Buddha, was covered in plaster-like material to hide its significance and value from Burmese invaders, however, this artefact was not lost. The Emerald Buddha is approximately 66 centimetres tall and is carved out of what is thought to be one of the largest pieces of jade in the world. In the 16th century, the Emerald Buddha was held somewhere in Vien Tien for approximately 200 years. It was only recaptured and moved back to Siam in the late 18th century where it was installed in the Grand Palace and built its own shrine. Description/Architecture Sitting with its right leg crossed right over left, the Emerald statue lavishly enjoys 3 costumes a year dressed according to the season Thailand is experiencing; During the summer season, the Emerald Buddha is dressed in a multi-layered pointed headpiece, a breastplate, a sash, a variety of armlets and bracelets, as well as many other pieces of royal attire, all of which are enamelled and embedded with precious stone and metal. In the rain season, the statue is decorated with a sharp pointed golden headpiece studded with sapphires as well as a gold embroidered robe draped across the shoulder. Finally, in the cold season (as if Thailand had one), a diamond-studded jewel infringed headpiece is installed to mark the end of rainy season. If you are in Bangkok and have some available time on your hands, you won't regret visiting the Emerald Buddha. As it looks change according to the season of the year, it is nice to go see it during different times of the year. Similarly to other holy sites listed by Shanti Lodge, Wat Phra Kaew is a stunning sight and what we at Shanti consider a cultural attraction all travellers should visit at least once during their stay in Bangkok. Wat Phra Kaew is located on the grounds of the Grand Palace and is thus included in the Grand Palace's entrance fee of 500 Baht. For those you enjoy travelling along the Chao Phraya River, It is accessible by Riverboat for 15 Baht with the destination pier being 'Tha Chang'. Wat Phra Kaew can also be visited by in a 10-minute ride by Taxi or Tuk-Tuk with travel costs ranging between 50-100 Baht. Opening Hours 8:30 – 15:30
Wat Pho (Temple of The Reclining Buddha)


Wat Pho and the biggest reclining Buddha in the world.
Wat Pho Wat Pho, also known to travellers as 'Temple of the Reclining Buddha', is one of Thailand's oldest and most illustrious temples. Built on a former holy site by King Rama I, Wat Pho is considered a first-class royal temple. The history behind its prestige dates back to when Thailand's old capital city, Ayutthaya, had been encroached and captured by Burmese invaders. Upon being captured, King Thaksin moved Thailand's capital to Thonburi and placed his royal palace in close proximity of the holy site immediately elevating it to the status of Thailand's Royal Monastery. Wat Pho as we know it today was largely built by King Rama I's efforts when he moved former King Thaksin's palace to be adjacent to the temple's grounds. During that time, the site required wholesome renovations as it had been largely neglected and left to lay in ruins. During its reconstruction, King Rama I ordered the collection of Buddha images and artefacts from the previously invaded lands in order to relocate them to Wat Pho. This is the primary reason behind Wat Pho being host to Thailand's largest Buddha collection including the famous 46 metre long reclining Buddha. Wat Pho's grounds span over an area of 80,000 square metres and is home to over 1,000 Buddha statues and images. The grounds are filled with cultural artefacts including the reclining Buddha, which is known to be one of the world's largest. Amongst the temple lies an additional; 91 small chedis (spires), 4 large chedis, 2 belfries, a central shrine, multiple hallways filled with statues, a variety of pavilions, several gardens, and small temple museum. Wat Pho is a great addition to a list of things to see in Bangkok. The temple grounds are simply massive. It has so much history and culture to offer that it takes several hours to cover everything end-to-end. Visiting this temple is highly recommended by Shanti Lodge as it provides a very memorable experience. It is enjoyable individually, as a family, and in groups. Wat Pho is located near the banks of the Chao Phraya River (Add link) and lies adjacent to The Grand Palace. It is open between the times of 8:00 AM and 17:00 PM. The temple's grounds can easily be accessed by riverboat for a mere 15 Baht from Thewet Pier (5-minute walk from Shanti). Travellers can also opt to go by Taxi or Tuk-Tuk with the ride expected to take approximately 15 minutes and cost between 70 - 100 Baht.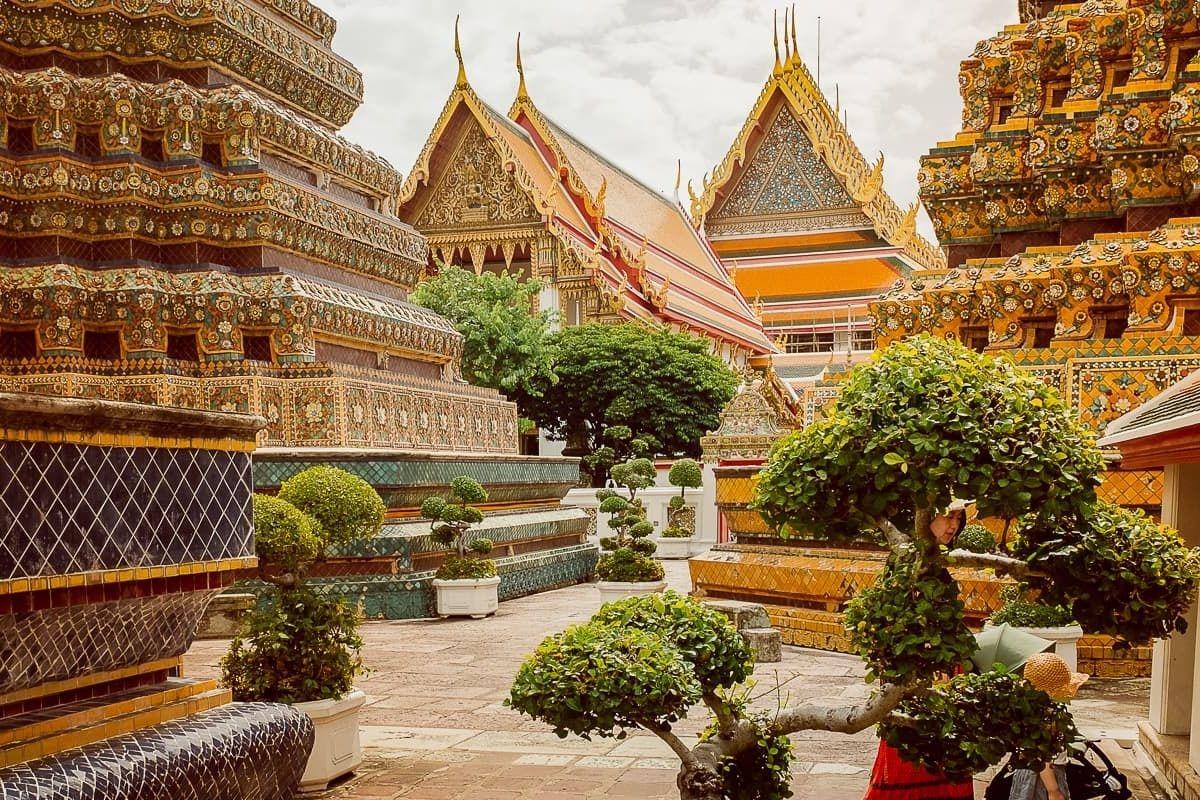 Wat Benchamabophit (The Marble Temple)


Bangkok's Marble Temple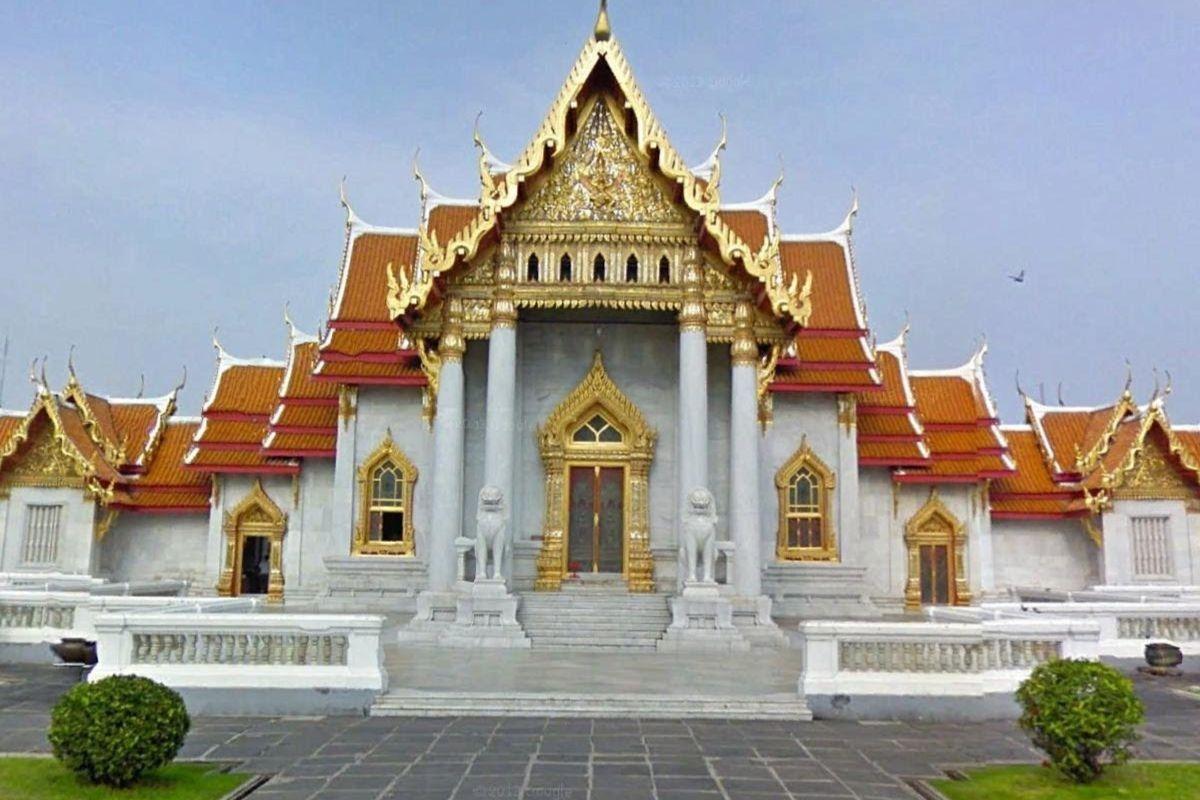 Wat Benchamabophit (Marble Temple) The Marble Temple or known to locals by its official name 'Wat Benjamabophit', was built under King Rama 5's reign around the year 1899. It is one of Bangkok's most visited holy sites due to its profound beauty and religious importance. The name which means "Monastery of the fifth King" was erected on top of an old 19th-century temple and was intended to be the Dusit Palace's private holy site. Designed by King Chulalongkorn's half-brother Prince Naris, the temple is built from Italian marble and has Carrara marble pillars on display with a stunning marble courtyard as well as two large marble lions (singhas) standing guard of the temple's entrance. Inside the temple, there is an ordination hall that houses a Sukhothai styled statue of the Buddha, named Phra Buddhajinaraja. Surrounding the temples are also 52 different Buddha statues all showing different spiritual hand gestures. If you love Thai culture, spiritualism and architecture, visiting this temple whilst in Bangkok should be on top of your priorities. As it isn't immensely large like many of Bangkok's other tourist destinations, it only takes about 1-2 hours to view everything here. Location/Accessibility The Marble Temple is located on the intersection between Rama V Road and Sri Ayutthaya Road. Shanti guests can travel to this holy site by Taxi & Tuk-Tuk for approximately 50 Baht, travelling there only takes 5 minutes! Opening Hours 6:00 - 18:00
Wat Arun (Temple of Dawn)


Thailand's Surreal Temple of Dawn
Wat Arun Wat Arun, also known as 'The Temple of Dawn' was first recorded on the maps during the reign of King Narai sometime around 1656. The exact date which the order to construct this holy site is unknown, however, it has survived over a long period of time and has seen the passing of many kings. Wat Arun was once a part of Siam's royal grounds during King Thaksin's reign, but his successor Rama I moved the palace across the river. Although largely abandoned for a period of time, the site was restored under the orders of King Rama II. During those restorations, its central pagoda was raised an additional 70 metres and its distinctive chedis (spires) were also constructed. Renovations took many years and were only completed under the reign of King Rama III. The temple is an aesthetic wonder, its beautiful design matches those from the Khmer empire era's architectural style, and thus, Wat Arun looks very similar to Angkor Wat in Cambodia. The central spire is decorated with shining iridescent porcelain and is topped with a 7 pronged trident known as 'The Trident of Shiva'. It's surrounding lesser spires are also ornamented with porcelain and sea shells which are thought to have been collected from trading boats originating from China. Whilst visiting Wat Arun is astonishing by day, at night it is indeed spectacular. When the Sun's final rays set over the horizon, lights are shone upon the structures iridescent coating illuminating the surrounding area with a golden hue providing travellers with an amazing visual experience unlike any other in Bangkok. The temple grounds can easily be accessed by riverboat for a mere 15 Baht from Thewet Pier (5-minute walk from Shanti). Guests can also opt travel go by Taxi and Tuk-Tuk with the ride expected to take approximately 15 minutes and cost between 70 - 100 Baht. Wat Arun is located on the Chao Phraya River's bank (Add Link). It is open between 6:00 AM and 20:00 PM.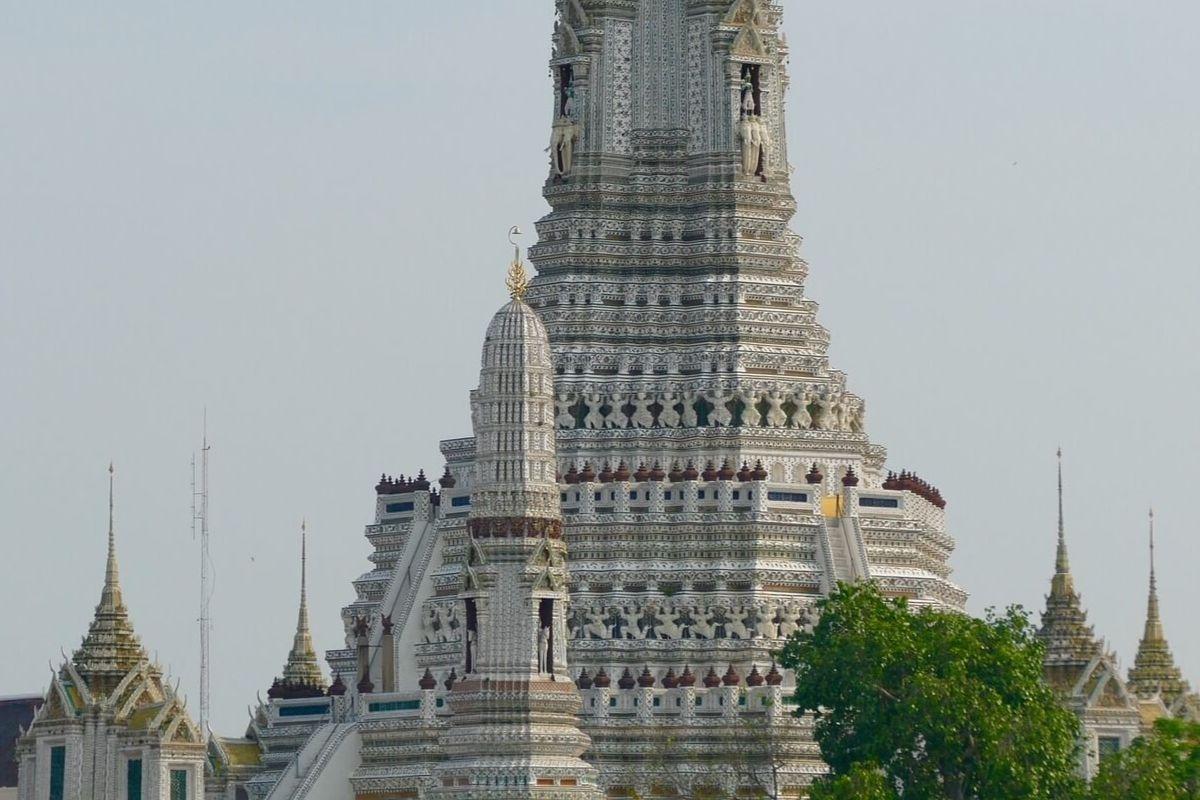 Vimanmek Mansion (Teak Palace)


The world's largest Teak Wood Palace.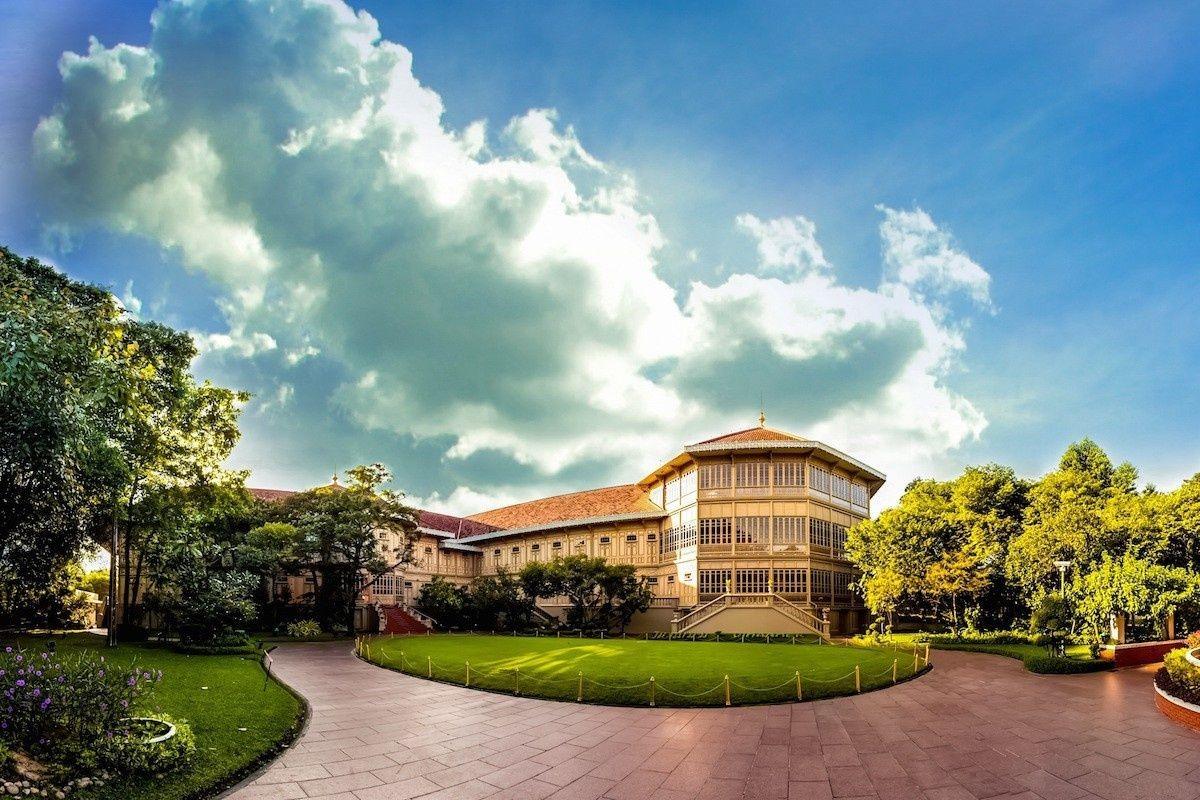 Vimanmek Mansion Vimanmek Mansion is known to be the world largest teakwood palace. It was constructed in 1900 by King Rama V. Vimanmek Mansion original belonged to Munthatu Rattanaroj's residency which was located in Chonburi. It was ordered to be deconstructed and reassembled as the first permanent residence in the garden of the new Royal Palace. Vimanmek Mansion combines a balance of Victorian era with classical Thai architectural style. Unknown to the general traveller, the teak used to construct this palace is not the typical teak found elsewhere, but is rare teak with lighter and more appealing golden brown shade. The mansion itself has 3 floors and is shaped similarly to the letter L as its hallways measure to be 60 and 20 metres in length. Including this beautiful golden teak building into your exploration of Bangkok is a great idea. In addition to a nice well-kept garden surrounding the building, the inside is now used as a museum and has a lot offer including; exhibits of Queen Sirikit's collection of handcrafted items, former King Bhumibol's photography and portraits, as well as royal carriages, ancient clocks and much more. Guided tours are also available for purchase for those who want to know the history and significance behind the things they are viewing. Vimanmek Mansion is located off Ratchatewi Road (add link). It can be accessed from Shanti Lodge by riverboat for 15 Baht, 10-minute Taxi & Tuk-Tuk for about 50-80 Baht, and city buses for about 8-25 Baht (depending on bus colour). There is an admission fee of 150 Baht, alternatively, travellers can purchase a bundled admission which including the Grand Palace as well. Opening Hours 9:30 – 16:30
The Grand Palace


Thailand's Illustrious Grand Palace
The Grand Palace The Grand Palace is a complex of buildings and landmarks which have great cultural significance to Thailand and its people. The construction of the palace was ordered in 1782 by King Rama I when he moved the capital city from Thonburi to Bangkok, it has since remained completely intact and beautiful for hundreds of years. Since its construction, there have been many additions and renovations. Up until 1932, the grounds were used by all of Thailand's kings and their royal governments. This only changed after the abolition of Thailand's absolute monarchy. Currently, the Grand Palace is used primarily as a tourist attraction, however, when there are royal ceremonies or symbolic government events, it is often the place of choice. Saying that the Grand Palace consists of a large number of buildings is an understatement. The grounds host a number of; Halls, Pavilions, Lawns, Gardens, Courtyards, and Holy Sites as well. The palace grounds cover 218,400 square metres and is situated along the bank of Chao Phraya. If there is any single cultural destination that you should see in Bangkok, we believe it's the Grand Palace. The palace complex is considered to be the most important site in Thailand. The symbolic site hosts; Wat Phra Kaew (Temple of the Emerald Buddha), a meditating statue of the Buddha magnificently carved out of a single piece of Jade. The Central Court, the King's official residence. The Inner Court, the living area of the King's royal consorts and their daughters. The Outer Court, the housing area for government departments. Exploring everything the Grand Palace has to offer can leave you in awe. It is so large that visitors should set aside at least several hours to cover everything and truly appreciate everything it has to offer. The Grand Palace is located in 'Old City' Bangkok on Na Phra Lan Road (Add link). Travel to this amazing location from Shanti by Riverboat from Thewet Pier for 15 Baht, or by Taxi and Tuk-Tuk for anything between 60-150 Baht. Opening Hours 8:30 - 15:30